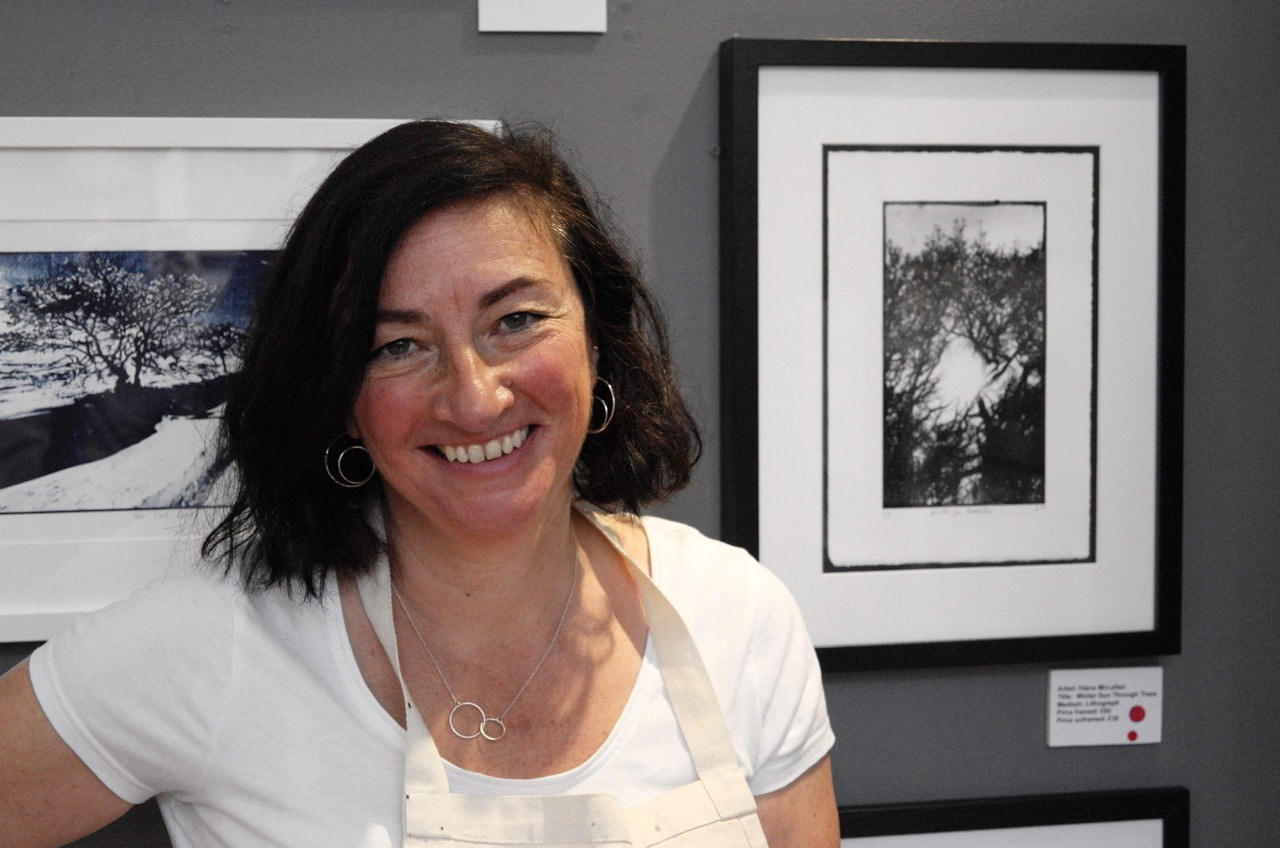 Born in Leeds, Diane was educated at Leeds Girls' High School. She studied Art at the University College of Wales, Aberystwyth, graduating with a BA(Hons) in Visual Art, followed by a Post-Graduate Certificate in Education. On moving to London she became involved in the animation industry, and the emerging techniques of computer graphics and video manipulation. This led to a career in Graphic Design for television and special effects for clients such as Granada, TV-AM, GMTV and This Morning. Throughout this time she continued to draw and paint, and has more recently been concentrating on paintings and printmaking. She divides her time between London and Yorkshire. 
Artist's Statement:
Early influences while studying Art were pointillism and pop art, systems painting, photography and illustration. However the biggest influence on my work was probably my years as a graphic designer and animator in television. Long hours were spent looking at images frame by frame in extreme close-up to smooth out pixels, or in the more traditional methods of cell-painting in flat, opaque colours. These techniques have transferred themselves to the methods of choosing imagery and composition that I use now. I like to  break the image down into its constituent parts and layers before reassembling them. Printmaking affords the same opportunity to reconstruct an  image, whether by combining different processes or using several plates to create a final print. I usually work in acrylic, but sometimes mix media and techniques, using photography, photoshop, collage and printmaking.
The Morley Gallery, London
May 8, 2018 - May 26, 2018
Morley Gallery in partnership with V&A
Morley Gallery
61 Westminster Bridge Road
London SE1 7HT
Mon–Fri 11.00-18.00 and Sat 12.00–16.00.
Wednesday Printmakers Group Show
An exhibition of original prints by Artist Printmakers at Richmond Art School, RACC
Wednesday 4th October - Friday 27th October 2017
www.wednesdayprintmakers.wordpress.com
Food For Thought
Russell-Cotes Art Gallery & Museum, Bournemouth 
An exhibition to explore and examine people's relationship to food as expressed through art, culture, and lifestyles.
Russell-Cotes Art Gallery & Museum, Bournemouth
Dec. 3, 2010 - May 8, 2011